Barrington Hills IL Real Estate 60010 Market Report July 2017. Welcome to our new and first monthly market report for Barrington Hills homes.
The Housing Stats For July 2017 in Barrington Hills IL 60010
There were 8 homes sold in Barrington Hills.
The average marketing time for these sales was 210 days.
Minimum sale price $375,000.
Maximum sale price $820,000.
Average sales price ratio at final price was 95% of asking price.
Average sales price rate of original price, i.e. before price cuts, was 90%.
There are 125 homes for sale today.
There are 12 homes under contract.
Barrington Hills has enough inventory to last 26 months. The active marketing time is high at 380 days, but it is skewed a little by those high end listings that rarely get a buyer look let alone buy. There are 25 homes priced over $2 million. Over half the available homes for sale are priced above $1 Million. Considering July's highest price was $820,000 it's no wonder they are sitting for longer periods of time waiting for a buyer.
Good News For Buyers in Barrington Hills
Inventory. Simply lots to choose from. Jumbo mortgage rates are as low if not lower than conforming loans. When looking at costs to own a Barrington Hills home, pay attention to the taxes, they will be higher because you are usually buying 5 or more acres of land and the tax man wants his slice. Buyers usually select Barrington Hills homes because of the peace and serenity afforded in this country suburban location in an excellent school district. Plus you can have your own horses living on your land instead of boarding them.
Barrington Hills Home Sellers Need Patience
Although the average time on market for all homes in Barrington Hills is now 380 days, it's only 281 for the homes priced under $1 million. That's still 3/4 of a year so sellers need to accept that when listing a property for sale, it's unlikely you'll have a rush of buyers knocking at your day on day 1. Mortgage rates are good and most buyers in Barrington Hills have reasonable down payments.
Price your property in the mid to lower range of similar sales and that time will be shortened. You can balance the lower sales price against cost of continuing to run the property, especially if it's vacant. Your average contract to close date is now 55 days. The best news I can give sellers in Barrington Hills is that sales are on the up. The chart below for the last 18 months reflects this.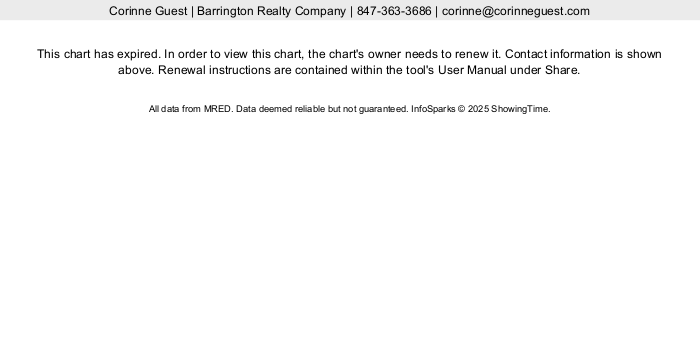 Let Me Help You Find a Home in Barrington Hills.
For further assistance or to start your home search, call Corinne Guest, Barrington Realty Company at (847) 363-3686. Or fill in our form below.