July 4th has come and gone, I hope you all enjoyed some fireworks, grilling and time with family and friends. That also means we are into the second half of the year. Let's do a comparison with last month to see if sales are steady, then will move on to some simple data to assess the market for the half year.
May homes sales in Barrington and Inverness areas totaled 80 homes. The average marketing time was 182 days and the average ask to sale ratio was 94.5%.
June homes sales in Barrington and Inverness areas totaled 121 homes. The average marketing time was 136 days and the average ask to sale ratio was 96%.
That's a lot of activity! However it's also expected in June, July often slows down for vacations but that remains to be seen. Come back next month and we'll take a look. For now let's look at the half year of January to June 2015.
Let's look at sales compared to 2014, always a good indicator of activity.
Sales are up in Barrington by 15.4% compared to the same six month period last year. But does that mean homes are in short supply? Absolutely not. On fact we have an increase of 27.5% more listings available than the same time last year. The good news is the average sales price for this year compared to last has risen by a nice 3.2%. Nothing too crazy but not going backwards anymore.
Barrington Real Estate Sale – Mid Year FAQS
There are currently 854 homes for sale in Barrington 60010. We've got another 128 in Inverness.
Mid year average marketing times was 148 days.
Mid year list to sales ratio was 95%.
Average sales price single family was $555,825
Average sales price attached homes was $228,976
Median sold price single family homes was $500,000
Median sold price attached homes was $210,000
Homes currently under contract – 119
Market Supply – Increasing!
The following graph indicates our supply of homes is increasing and too fast! There seems to be a rush to market right now giving buyers more choice. With almost 11 months of supply we are swinging back to a buyers market. This is NOT going to assist values increasing. Hopefully it's a seasonal swing and will correct over the next few months with the increased activity we are seeing.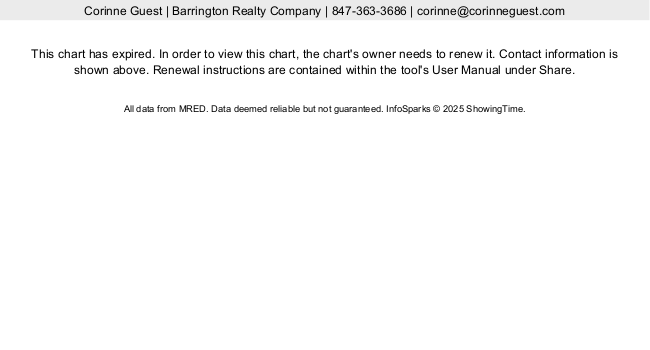 Top Tier Luxury Home Sales January to June 2015
Always the toughest section of the market to sell and with prices topping out at nearly $20 million, luxury home sellers must understand the reality that selling from a million up gets harder and the higher the price the smaller the buyer pool. In the first half of 2015 there were 15 homes sold above $ 1 million. The highest price sold was $1,650,000. That's just over 2 a month. There are 153 available homes priced above a million, meaning that's a real tough market to sell in. 50 are priced above $2 million and the top asking price is $18,775,000.
Tough odds to deal with, right? Patience is required as is understanding that you won't be seeing multiple offers, you likely won't get many showings and that's a long time to keep a property in perfect condition for showings. Sellers should also understand luxury home buyers are not like first time home buyers. There's more to a multi million dollar home purchase than finding a home. It's as much about the investment as anything. Is it a prudent choice? In the event of re-sale can the buyer predict any issues?
Is the price right? 
The asking price of homes above $2 million can be extremely subjective. When considering pricing a luxury home, if there are no recent sales to look to, how do you come up with a price? How do you get to $19 million when you only bought the property for $7.5 million 3 years ago? We know that prices have not increased that much.Even a Realtor is going to have a hard time giving you a legitimate number, yes you heard that right!
For now, the top tier priced homes will have to ride the market wave for a while, and hope that the buyers with the big money come to market, just once in a while.
Are you a professional moving into the Barrington area? Contact Corinne, The Realtor Choice of Professionals. 847-363-3686.