It has been a while since our market was at it's peak, when you bought your lot. It's also been a while since the market has recovered and home values maybe close to or above the prices in 2004. Lot values have not recovered at the same pace. Barrington vacant lots are not worth what you paid for them and you scratch your head wondering how long you need to sit on it to get to a break even point.
The Ongoing Cost of Barrington Vacant Lots
In addition to the original purchase price, which likely you paid cash for, you are paying real estate taxes every year. You might also being paying an HOA fee for a planned unit neighborhood. Some HOA's are reduced for vacant lots rather than improved lots, but it's still an expense.
The years are rolling on by, the lot value is stuck in the doldrums, the payments keep going out. If you have a plan to build your dream home on your lot in the future, this issue is not for you. While your value may not be what your investment was, you secured the lot you wanted and can sit tight until you are ready to build. If you have decided not to build, or if your lot purchase was for investment, you might have reached the point of needing to make a decision, one way or the other.
Do you keep your lot, hoping one day to break ever or make a profit?
Do you sell now at a loss to stop the bleeding?
Do you wait another year or two and re-assess the market for Barrington vacant land?
Where Are The Dream Home Buyers?
We have a few. The buyers looking to build a dream home have a great selection of vacant lots to choose from. Whether they search for a lot in a developed neighborhood, a lot with a house to tear down, a lot that is small or large, in Barrington zip code we have 154 available lots to choose from. That is down but not as low when we had under 100. There are 3 lots with contracts, one of which is commercial.
Buyers will often look in neighboring communities. For the Barrington area we are competing with Kildeer, Long Grove and Hawthorn Woods, even Lake Zurich. In the 60047 zip code that encompasses those village there are 79 available lots, 5 more are under contract.
Pricing Lots is Critical
If you do decide it's time to liquidate, let go of the idea you'll get your investment back. Unless you have been sitting on the lot for many years, your chances are slim. It's a competition. in addition to assessing the benefits your lot may or may not have, you've got to look at competiting listings and realize this is not a time you can push your pricing up.
The following chart shows Barrington land sales over the last 10 years. We pulled the average sales price. It's as clear as day that we had an extreme loss in values and although it's rising, it's a slow climb. I don't have an answer about how many years this is going to take to get back to 2009 prices. However if you follow the chart it certainly gives me a good idea of what to expect.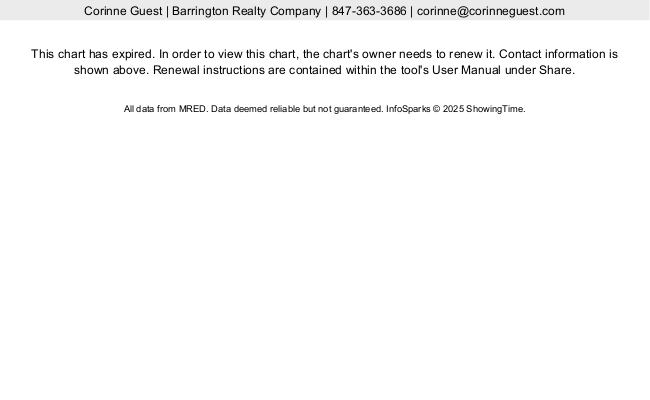 Time to Market Your Vacant Lot
I wish I could tell you that off-loading your lot will be a breeze. The chart below shows an improvement in average marketing times. Barrington vacant lots are now taking about 1 year to sell. There is always an upswing over the winter, so we should see a continued downwards swing. I suggest being ready for a 9-12 month on market time. Again, you have to price to sell.
Marry Your Lot With a Builder
Instead of just adding your vacant lot to the endless supply, consider an alternative. Find a builder that can build a custom home. Get together with a REALTOR® that can suggest what the best home/lot package should be for the area. Find a builder that can offer the package and one that is willing to put the effort into quoting custom extras or different plans to buyers who are very interested.
Understand the value of your lot is not going to change. But it might be a way of stopping your bleeding. It makes it more attractive to home buyers.
A buyer who is going to build, can package the construction with the land purchased into one construction loan.
This opens you up to financed purchases.
You get paid out of the first draw and the land changes ownership.
The buyer now takes responsibility for taxes.
Comparing Sales of Lots in 2018
The only way to assess the value of a vacant lot is to look for comparable sales over the last year. Over the last 12 months we had 19 residential vacant lots sell. The median price was $285,000.
We had a sale of a 5 acre lot as low as $60,500. The highest 5 acre lot sale was $640,000. Location defines the value.
The highest residential lot sale was in South Barrington on a waterfront location. The buyer paid $690,500 for 1.13 acres.
We had 5 lots sell under $100,000.
Available Lots For Sale – See Your Competition
If you are considering a sale, see what the competition is in your town. If will help give you a measure as to current marketing prices.
Land in 60010 Area
Land in 60047 Area
Contact Me For a Builder/Buyer Package
I don't make any guarantees of success. However buyers love new construction. I have a builder currently doing this with several lots. We get weekly enquiries, increasing now the spring market is ahead of us. We offer special deals to buyers who come through our marketing packages. We offer them a discounted commission rate to sell any existing home and upgraded appliance packages for the new build.
So if you have Barrington vacant lots you want to sell and sell faster and easier, give me a call at 847-363-3686. Just please do not expect an elevated value because we are creating different packages to entice buyers. Your land is worth only what it is worth. Most Barrington vacant lots will sell at a loss unless ownership has been a long time.
Contact Me About Any Land Sale