What did we learn from the last realestate decline? Overpriced homes don't sell. That is still true and in South Barrington home sellers need to understand the current market! Why? Because it has already peaked and signs are not thrilling.
A recent conversation I had with an agent that has listings in South Barrington leaves me scratching my head. The agent said he knew one of his listings was over-priced and would not sell at the current asking price. (I had shown the house to one of my buyers a week or so prior and they laughed at the asking price, saying it was ridiculous.) I wonder if he ever told the home owners he considers the price too high. Maybe he 'gave them' the price?  I am clueless as to why any agent would want to be responsible for marketing an over-priced home. Maybe he's not bothering with marketing?
It's astounding really! Granted we cannot accurately predict a sales price. But we usually have a reasonable range to use based on nearby sales; this one does not stand a chance! If the sellers have no clue, they are living in darkness. If it's their price, then the agent is not helping by agreeing to it. When will either realize a price cut is needed? Perhaps this post will help.
There's some pretty slamming data when it comes to the South Barrington real estate market right now. It's slumping….no doubt about it.
South Barrington Average Marketing Times
If the supply is heavy and the demand is declining the result is longer market times. This graph was pulled today from the sales for South Barrington over the last year and some. That's a pretty clear graphic, don't you think?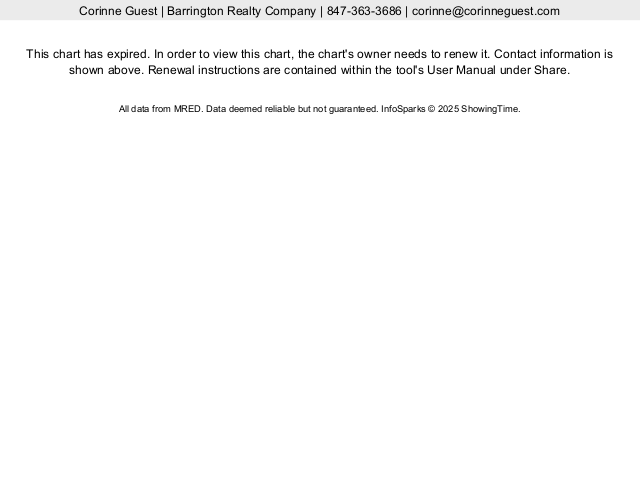 How Much Supply Do We Have in South Barrington
There are almost 18 months of homes available to buy in South Barrington, based on current sales rates; that appears to be climbing at a steady pace. So sellers need to know, it's getting harder month by month. You are in both a beauty competition and a pricing competition. In 6 months you are out of the game, in 3 months you are falling out. Get with it and watch what's happening! Or hire a Realtor that knows, wants to help you, and is willing to tell you the truth.
Overpriced Homes Don't Sell
Look, how much easier can it be to understand than by looking at this graphic. In January 2015 we had about 67 homes for sale in South Barrington. Of course we see an increase in the spring. BUT it never stopped! We are almost at 85.
This year we have had 165 new listings in South Barrington. Of those 28 sold. 7 are pending, i.e. waiting to close. 7 are under contract with contingencies in play. 2 expired with no sale. 34 were cancelled. 81 are for sale. Some were listed last year and are still for sale. 6 were listed in 2014!
So while I am not intending to be the gloom and doom merchant, I am a realist. If your home is on the market in South Barrington, have you taken a long hard look at your pricing recently? Are you serious about selling or just hoping for a miracle.
Tip:- Lastly do not forget that your buyer is going to need an appraisal for a financed purchase and many cash buyers still seek one to be sure that they do not overpay. This is especially true in luxury home markets. What was yesterday is not what is today! Overpriced homes don't sell….period.
Contact Corinne for a truthful assessment of your likely sales price. This is not meant as a solicitation if your home is listed with another brokerage. Ask your current broker to respond to your questions.