Barrington Hills homes represent a small part of the Barrington 60010 market. Here's the annual real estate market report for Barrington Hills residential sales in 2018. Barrington Hills is one of our luxury markets but also has homes with larger acreage than the surrounding villages.
Summary Real Estate Market Report for Barrington Hills
46 homes sold. That's a decrease from the 68 units sold in 2017. Reduction of 32% which is more than Barrington as a whole which was 15% down.
Average price of all homes sold was $799,716.
Average list to sales price ratio was 92%. Price changes were needed to meet this number.
Average time on market was 270 days.
Chart Showing Sales Numbers Over Last 5 Years
Barrington Hills homes sold are not following a very defined path. Since 2013 it has been a little up and down. Overall the trend is less rather than more.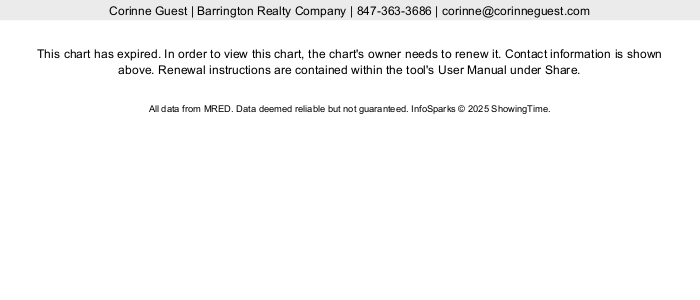 More Numbers for Our Market Report for Barrington Hills
Lowest price sold $292,000
Highest price sold $2,600,000
Lowest price available listing $269,000.
Highest price available listing $14,900,000.
Current average time on market is 488 days.
There are always some homes that get missed in market reports. The most common reason is that a home is not classed as the village of Barrington Hills when it should be. The highest price right now in Barrington Hills is $14,900,000 but it's been entered into our MLS as a Barrington address. The highest priced home listed as Barrington Hills on the MLS is $14,888,000.
The extended days on market is driven by the higher priced homes which have been taking a long time to sell. Anything listed above $5 Million has an average marketing time exceeding 1,500 days.
Anything below $800,000 is doing better, above it and the marketing time starts extending. Barrington Hills is not the village to hope to buy in, without selling an existing home first unless you can carry both. Be aware you may carry both for a long time! The lowest average on market time is 273 days. Of course some properties will take longer and there are always those that will sell quicker.
Vacant Land Sales
There were 5 vacant lots sold in 2018 in Barrington Hills. The lowest price was $95,000 and highest $640,000. The average market time for these sales was 617 days.
There are 50 vacant lots for sale with a current average time on market of 688 days. Prices range from $160,000 to $5,400,000. Lot sizes range from 1.1 acres to 60 acres. The average lot size in Barrington Hills is 5 acres.
Highest Price Barrington Hills Homes
Vacant Lots for Sale
What's The Absorption Rate?
Great question and often misunderstood for average days on market. The absorption rate is this: How long would it take for every current listing to sell and the present rate of monthly closings? The chart below shows that rate since 2015 and aside from a small dip at the end of 2017 and beginning of 2018, we can see there's simply a lot of inventory for sale in Barrington Hills. At the time of writing it would take 27 months to sell every house.
It's important to understand these dynamics and not listen to the media or to what's going on in other towns either locally or nationally. With a slow year in 2019 I hope to see and increase again in 2019, we need to move some of these available homes before flooding the market with new listings.
How To Help Your Sale Along!
If you have been on the market a while, know these numbers first. Without the knowledge about the Barrington Hills real estate market you might be getting disappointed too early. While price does play a big part in home sales there are often other reasons your viewings did not bring a buyer.
The reality is that buyers got very picky when the market was flooded with homes for sale. We've had a real estate recovery but buyers became savvy and they've stayed that way. With an adequate inventory of homes to choose from buyers can be picky. They'll maximize their dollar. Here are some of the things that cause buyers to not buy.
Adjacent or backing to a busy road. Road can be a residential throughway to qualify as busy!
Unfinished basements. Make sure you are not pricing your home equivalent to those with finished basements.
Outdated kitchens and bathrooms. Big ticket items that also take time to do.
Past natural lifespan mechanicals such as heating, A/C, water tank. The guys always go looking at these items.
Old and flat carpets. They don't even need to be worn but 10 year old carpets can look drab, flat and maybe dirty. Another big ticket item.
Scratched or worn hardwood floors. Perhaps they need refinishing or even replacing.
Wallpaper. Even people who like wallpaper won't like yours! It's a pain in the rear to remove!
Poor quality finishes based on the price of a home. Are you meeting, exceeding or disappointing buyers expectations.
Even older homes with character and styles from long ago need to prove to buyers they have been cared for and updated for modern times.
Buyers simply do not want to have to take on maintenance or upgrade work right off the bat. If they can find a home that has already been updated that's going to jump to the head of a short list.
Sometimes there's nothing you can do to promote your home to a buyer. You cannot change location and that may be the biggest reason for rejection. You may get a lot of rejections before you get an offer. Can changing your price overcome the objections? Often but not always. Real estate taxes are playing a much bigger part in luxury home sales these days as well. Another thing out of your control.
If you would like more information abut living in this village, visit our community page for Barrington Hills
Contact Corinne Guest REALTOR®
For assistance buying or selling in Barrington Hills, drop us a quick note and we'll be in contact quickly.